Fircroft Home - Accomodation
---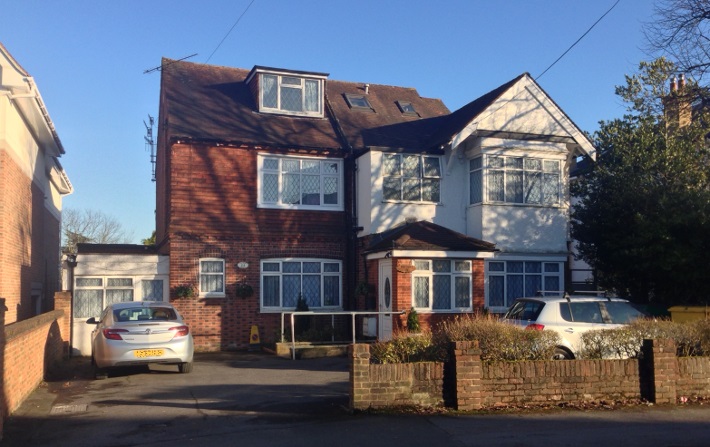 Fircroft Home is a lovely detached family house situated in a quiet residential area within walking distance of Redhill town centre in Surrey. The area is well served by public transport. Fircroft has easy access to many amenities: train and bus stations, library, shops, cafes, cultural and religious buildings, cinema, theatre, social groups and local hospital.
It currently provides 16 bedrooms, couples can be accommodated in shared rooms as a CQC Registered Care Home, specialising in the care of people with dementia and those who have learning disabilities, or a combination. All bedrooms are spacious and well equipped and have been designed to make sure our residents feel at home in a warm and comfortable setting. Residents are encouraged to bring personal items with them and personalise their rooms if they wish to do so, promoting an atmosphere of familiarity and a sense of personal security.
Choosing the right Care Home is an important decision and one that should be made with assistance from relatives and loved-ones and guidance from independent and professional sources, we understand and support this. We encourage prospective residents and family members to visit and discuss any aspects of concern to ensure they feel comfortable in choosing this as their home.
Our highly committed staff team is led by a Registered Manager who, along with all other members of staff, provides the highest standard of care. The dignity, health and wellbeing of our residents are a priority and the care we provide is always given with respect, compassion and understanding.
We focus on providing a joyful and calm atmosphere, where residents can live in comfort. We support residents on frequent day excursions encouraging social interaction and providing physical and mental stimulation. We pride ourselves on the high quality of food served. The meals are nutritious, well balanced and tasty, and personal and cultural preferences and dietary requirements are always supported.
Aims
To give all individuals a life that is as fulfilling as possible in homely and relaxed surroundings.
To give all individuals the care and support which will enable them to live as independently as possible with privacy, dignity and with the opportunity to make their own choices and achieve their goals.
To provide personal care which respects their dignity and self-determination.
To provide quality care that enables and empowers the individual to influence the services provided in the home by engaging each individual in all decisions that are likely to affect them.
Our caring team will endeavour to address the barriers which individuals may experience, increase their independence and promote their self-esteem.
Our staff will provide the care, attention and assistance a caring family would usually be able to provide. This consideration will be given to both the physical and emotional needs of the individual.
Our Home aims to provide an environment which is, as much as possible, in line with current creative thinking, as well as ensuring the ongoing development of the best practices in clinical and social care.
Objectives
To ensure that assessments of need will be used to develop personalised care plans with the objective of meeting the aims of the Home for each person.
Every person will be cared for as an individual and each person shall have an individual care plan, health action plan, risk assessment and person-centred plan. Issues relating to health, self-help skills and leisure occupation shall be included in individual plans.
The Home will ensure that Care Review meetings are held at least twice a year. This will involve the individual, family and representatives from relevant agencies.
Individual care plans will include:

Identified needs
Management plan to meet these needs.
An acknowledgement of any unmet needs and a plan of action of how these needs will be met.
Monthly evaluation of care plan

The Home will provide appropriate support and opportunities for individuals to participate in community life and planned activities/events.
Every Person will have the opportunity to bring in to the Home, or buy, personal items of furniture or other objects, which may enhance the comfort of their room.
The individual will be encouraged to maintain or develop new links with their own relatives. It is expected that visitors will respect the comfort and privacy of the residents when visiting.
Our Home will provide a variety of meaningful activities for all those within the Home and community.
The Home staff will promote meaningful social contacts with other members of the local community.